---
                                                       zuletzt aktualisiert am 18.06.22
"A woman's empathy for animals and nature is even more important to me
(as a selection criterion) than having sex with her."
---
"The power of ignorance: Everyone (voluntarily) makes the
mistakes that they would actually rather have avoided."
---
"God is not a computergame."
---
"Wrong decision: When - after maybe one and a half to two years - the last spark of a previously excessive sexuality has fled, you suddenly wake up and are faced with the shards of your own (former) deceptive emotions."  
---
"Partnership? Anyone who follows their heart and has repeatedly been wrong (proven of past relationships) should urgently reconsider their own strategy (decision of the heart?) when making subsequent decisions (for the future)."
---
"If relationships were indeed primarily about sexuality, someone would inevitably (more necessarily) have to leave their partner as soon as they were no longer able to engage in sexual intercourse for health reasons."
---
"If you really want to capture my (real) anger, you should just do some research in hell."
---
"Easy explanation: At the end of the day, a partnership is all about whether the
people involved are happier together than they were before alone."
---
"Viele Zeitgenossen/-innen sind nicht einmal in der Lage, zwischen Liebe
und Trieben zu unterscheiden.
Liebe ist unsterblich (über den Tod hinaus) und Triebe haben gewöhnlich
eine Halbwertszeit von ein bis zwei Jahren (wenn man Glück hat)."
---
"The search for pen and paper is like that Heisenberg's Uncertainty Principle:
If you need the 'particles', you won't find them."
---
"Künstler!? Dann suchen sie sich ausgerechnet die Kunst als Betätigungsfeld (als Berufung!)
und produzieren schlussendlich nichts anderes als die Arbeiter in der Möbelfabrik: 'Schubladen'!" 
"Partnerschaft? Wer immer seinem Herzen folgt und zum wiederholten Mal (nachweislich vergangener Beziehungen) falschgelegen hat, sollte bei seinen folgenden Entscheidungen (für die Zukunft) ganz dringend die eigene Strategie (Entscheidung des Herzens?) überdenken."
---
"Wenn es in Partnerschaften tatsächlich hauptsächlich um Sexualität ginge, müsste zwangsläufig
(notwendiger maßen) jemand seinen Partner/-in verlassen, sobald dieser/diese aus
gesundheitlichen Gründen nicht mehr zum Geschlechtsakt fähig wäre."
---
"One must have no pity on unscrupulous people without morals." 
---
"It is extremely draining, both physically and mentally, to withstand the brutal pressure
of excessive creativity over a long period of time." 
---
"You can survive hell, death and even the devil himself, but naughty girls
are guaranteed to take you to the grave." 
---
"Bei der Suche nach Stift und Papier verhält es sich wie mit der 
Heisenbergschen Unschärferelation: Wenn man die 'Teilchen' braucht, findet man sie nicht."
---
"Many contemporaries are not even able to distinguish between love and drives. Love is immortal
(beyond death) and drives usually have a half-life of one to two years (if you are lucky)."
---
"In einer Partnerschaft geht es letztendlich einzig und allein darum,
ob die Beteiligten gemeinsam glücklicher sind, als sie es vorher allein waren." 
---
"Artists!? Then they look for art of all things as a field of activity (as a vocation!)
and ultimately produce nothing other than the workers in the furniture factory: drawers!"
---
---
---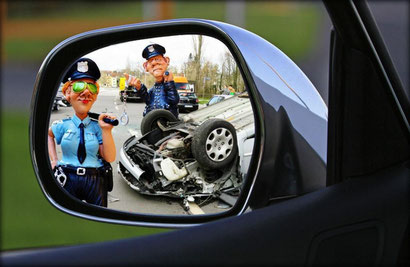 ACHTUNG: 
Wir weisen ausdrücklich darauf hin, dass die auf diesen Seiten dargestellen Texte und Inhalte partiell Spuren von Satire enthalten können. Alle Ähnlichkeiten mit lebenden oder verstorbenen Personen sind rein zufällig und vom Autor nicht beabsichtigt.
Die Redaktion
---